Introducing Our Weekly Meal Planner: Your Ultimate Food Organization Solution!
Stay on top of your nutrition game with our innovative Weekly Meal Planner. Designed to streamline your meal planning process and enhance your culinary experience, this planner is your go-to tool for creating balanced, delicious meals throughout the week.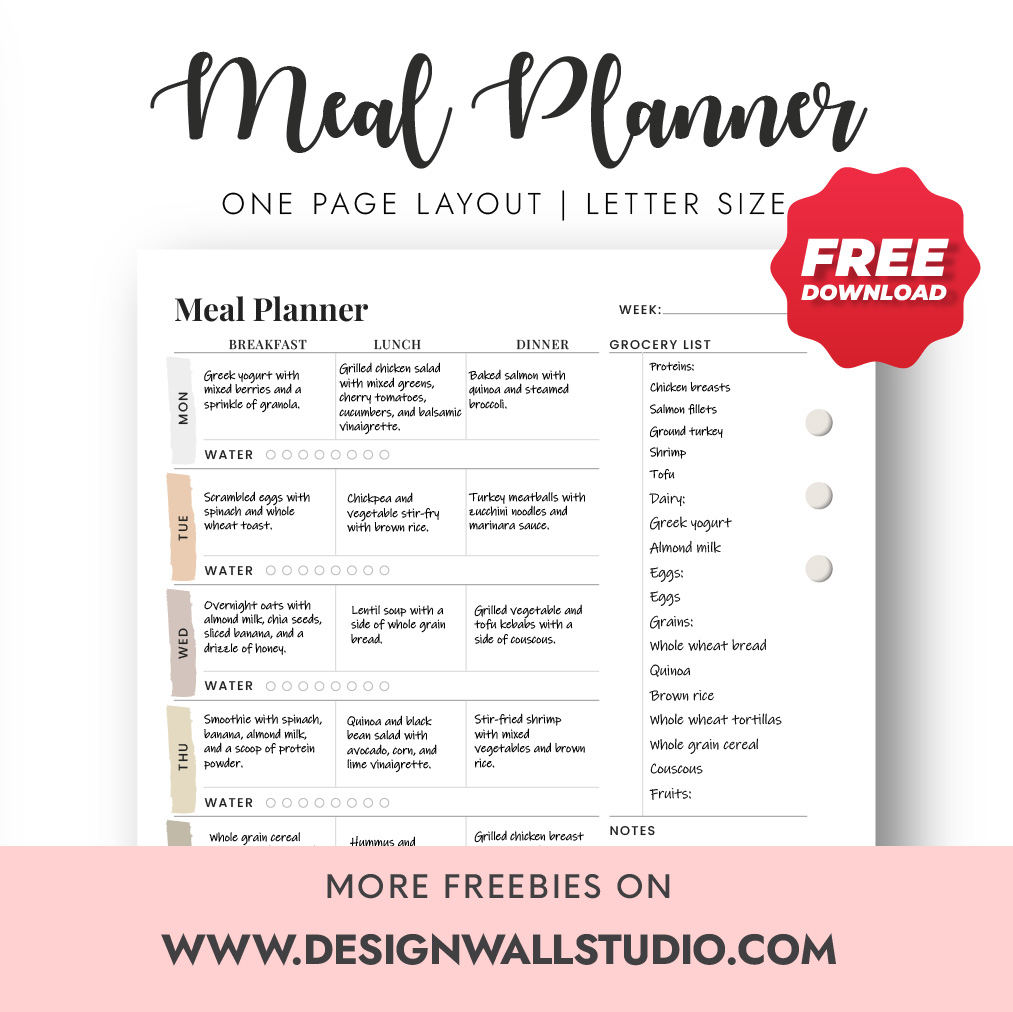 Features:
Three Columns for Each Day: Organize your breakfast, lunch, and dinner with ease. Our planner provides dedicated columns for each meal, allowing you to plan your entire day's menu at a glance.
Thoughtful Sections: Plan every aspect of your meals effortlessly. Each day features dedicated sections for breakfast, lunch, and dinner, ensuring that you never miss a meal or snack.
Ample Space: Enjoy ample writing space for jotting down your meal ideas, recipes, and nutritional considerations. Whether it's a hearty omelette for breakfast, a nourishing salad for lunch, or a flavorful dinner creation, our planner accommodates your culinary vision.
Grocery List Section: Stay organized and avoid last-minute grocery store dashes. Our planner includes a designated section for your grocery list. As you plan your meals, jot down the ingredients you'll need, making your shopping trips efficient and stress-free.
Notes Section: Capture your creative cooking inspirations, flavor experiments, and culinary discoveries in the notes section. Use it to personalize your meal plans, record recipe tweaks, or even write down memorable dining experiences.
Benefits:
Efficient Meal Planning: Plan your weekly meals in advance, eliminating the guesswork and reducing mealtime stress.
Balanced Nutrition: Design well-rounded meals that encompass all essential nutrients, ensuring a healthier lifestyle.
Budget-Friendly: Strategically plan your meals based on ingredients you already have, reducing food waste and saving money.
Time-Saving: Minimize cooking time by prepping ingredients ahead and planning meals that share common ingredients.
Enhanced Creativity: Experiment with new recipes, flavors, and cuisines, cultivating your culinary creativity.
Family-Friendly: Simplify family meal planning by easily accommodating different preferences and dietary needs.
Whether you're a seasoned home chef or looking to embark on a healthier eating journey, our Weekly Meal Planner empowers you to take control of your food choices. Elevate your meal planning experience and savor the satisfaction of well-organized, delectable meals every day. Get yours today and embark on a flavorful journey towards a more organized and nourished life!