Get ready to tackle the new school year with our Student Daily Planner, designed to empower students with organization, productivity, and success. As the back-to-school season approaches, this planner becomes your go-to tool for managing classes, assignments, extracurricular activities, and personal goals.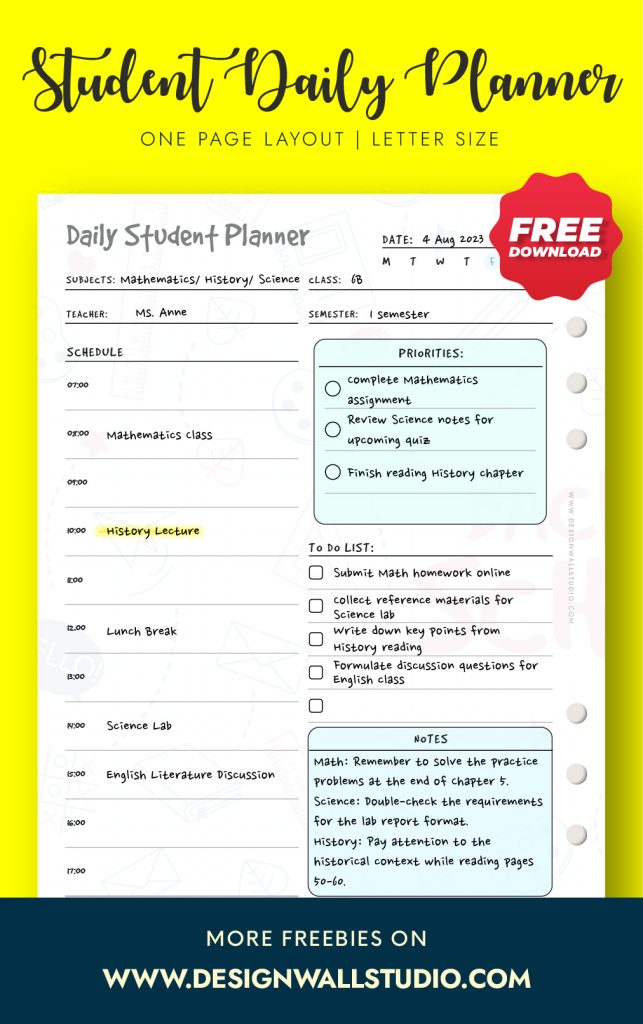 Features:
Structured Planning: Each day comes with dedicated sections for class schedules, assignment deadlines, and personal to-dos, helping you manage your time effectively.
Prioritize and Succeed: Highlight your top priorities and set achievable goals, ensuring you stay on track academically and beyond.
Assignment Tracker: Easily keep track of assignments, projects, and exams, making sure you never miss a due date.
Inspirational Quotes: Stay motivated with daily doses of inspiration that encourage you to strive for excellence.
Monthly Overviews: Gain a clear perspective of your month ahead with spacious monthly calendars to map out important dates.
Stay Organized: Manage your extracurricular activities, appointments, and events seamlessly, all in one central place.
Goal Setting: Set academic and personal goals, and track your progress as you achieve them throughout the school year.
Don't let the back-to-school hustle overwhelm you. Our Student Daily Planner is designed to simplify your life, reduce stress, and foster success. It's not just a planner; it's your partner in achieving greatness.
Whether you're a high school student, college freshman, or returning scholar, our Student Daily Planner equips you with the tools you need to excel academically, maintain a healthy work-life balance, and make this school year your best one yet.
Gear up for success and grab your Student Daily Planner today!