Habit Tracker for 2023 – Minimal layouts – printable insert to manage your day at one place. And it's free to download. printable insert comes in Letter size. It's one page planner insert.
Track your habits ahead with this printable planner and stay focused on your progress. Enjoy your free printable!
Includes: Habit Tracker, Habit Review, Habit Reflection, 30 Day Habit Challenge.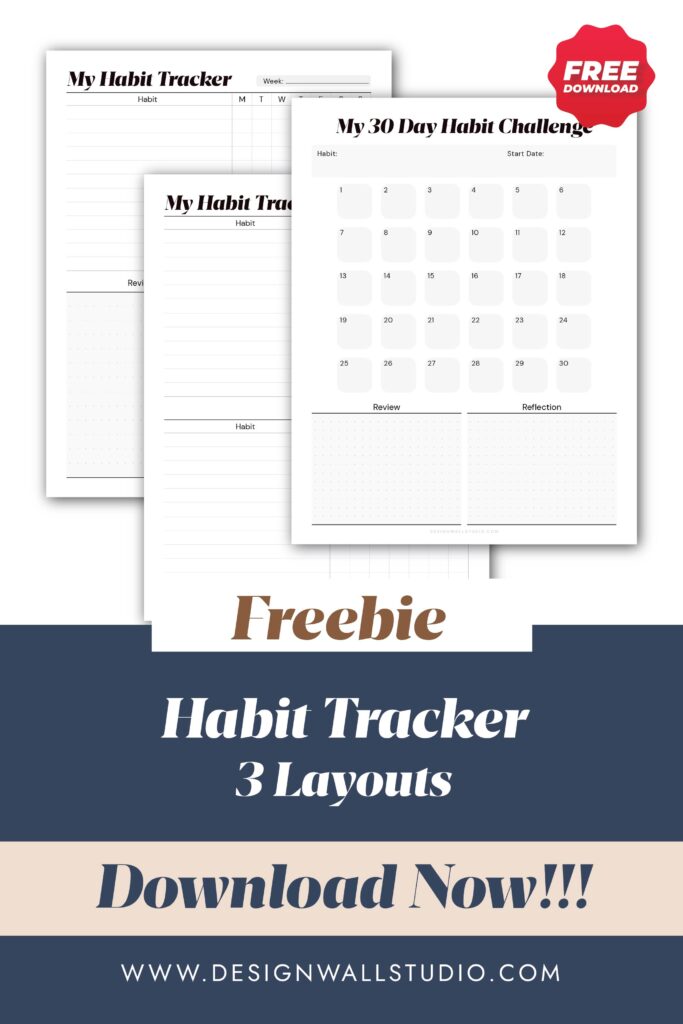 Habit Tracker
A habit tracker is a powerful tool that can help individuals achieve their goals by monitoring and tracking their daily habits and routines. Whether you're looking to improve your fitness, productivity, or overall well-being, a habit tracker can make it easier to stay motivated and on track.
Habit Formation
One of the best things about habit trackers is that they come in many different forms, so you can choose one that best suits your needs. For example, you can use a physical notebook or planner, a digital app, or a spreadsheet. Some popular habit tracking apps include Habit Bull, Loop Habit Tracker, and Habitica.
Goal Setting with Habit Tracker
When using a habit tracker, it is essential to make it a part of your daily routine. Consistency is key when it comes to habit formation, so it's essential to track your habits every day. Additionally, it's essential to set specific and measurable goals related to your habits. This will help you understand how well you're doing and how much progress you're making.
Fitness & Well Being with Habit Tracker
For instance, if your goal is to exercise more, you can track how many days a week you exercise, what type of exercise you do, and for how long. Or if your goal is to read more, you can track how many pages you read each day or how many books you read each month.
Reflecting on your progress regularly is another important aspect of using a habit tracker. This will help you understand what works and what doesn't, and will allow you to make adjustments as needed.
In conclusion, a habit tracker is a valuable tool for anyone looking to form new habits or improve existing ones. It can help individuals stay motivated and focused on their goals, and can provide a sense of accomplishment as progress is made. With the help of habit tracker, you'll be able to achieve your goals in no time.
Enjoy the printable planner